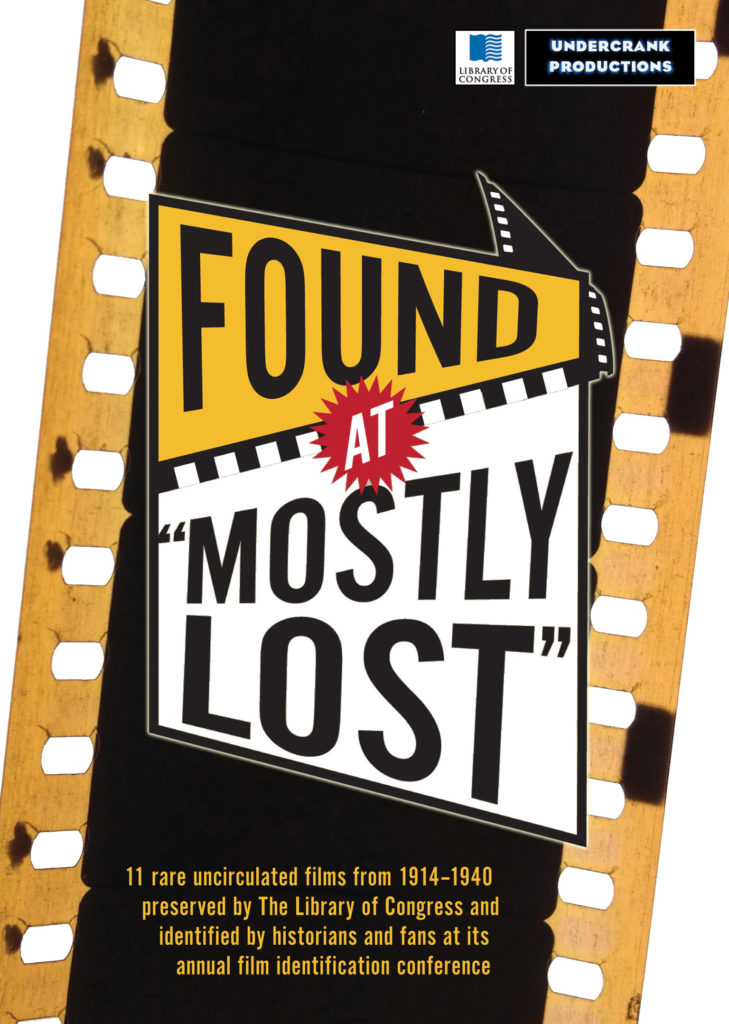 What's in a name? Thousands of films have been preserved by film archives, but because their main titles are missing no one knows what they are. Thanks to the annual Mostly Lost film identification workshop, this is changing. This DVD contains eleven extremely rare films preserved by the Library of Congress that were ID'ed recently — nine silent shorts starring comedians like Hank Mann, Snub Pollard and Jimmie Adams, plus two early sound comedies, one of which is William (Fred Mertz) Frawley's vaudeville act.
Starting in 2012, the Library of Congress has hosted Mostly Lost, an annual free workshop held at its National Audio-Visual Conservation Center in Culpeper, VA. Attendees range from writers, scholars, archivists, and filmmakers to just plain film buffs and students interested in film or preservation. During the three-day workshop, silent and early sound films are screened that have been unidentified, under-identified or misidentified. All genres of films are shown, including comedies, dramas newsreels and actuality films.
Attendees shout out things during screenings as they recognize them or find them online – anything from car models, city landmarks, actors, production companies or even the title of the film. In addition to films from the LoC's collection, Mostly Lost features material from other film archives around the world.
This DVD is comprised of a selection of treasures from the Library of Congress' vaults that were identified during the Mostly Lost conferences held 2012-2014.
The 9 silent films on the disc feature new piano scores by silent film accompanists Philip Carli, Ben Model, or Andrew Simpson, who also provide live musical accompaniment at all Mostly Lost workshop. screenings.
DVD CONTENTS:
The Nickel Snatcher (1920) – Hank Mann – 9 mins
Fidelity (1911) – Pathé drama – 10 mins
The Paperhanger's Revenge (1918) – Bud Duncan – 11 mins
A Brass Button (1911) – Reliance drama – 12 mins
Jerry's Perfect Day (1916) – George Ovey – 11 mins
One Million B.C. [test footage] (1940) – 7 mins
Ventriloquist (1927)** – William Frawley – 9 mins
Fifteen Minutes (1921) – Snub Pollard – 8 mins
In And Out (1920/21) – Monty Banks – 12 min
Grief (1921) – Jimmie Adams – 8 mins
The Joyride (1928)** – George LeMaire and Joe Phillips – 10 mins
All films silent except where noted by **.
107 mins ● B&W ● Stereo ● 4:3 aspect ratio ● Not Rated ● NTSC ● region 0 (all-regions)
Produced for DVD by Ben Model/Undercrank Productions
Release date: March 2016

Available at: