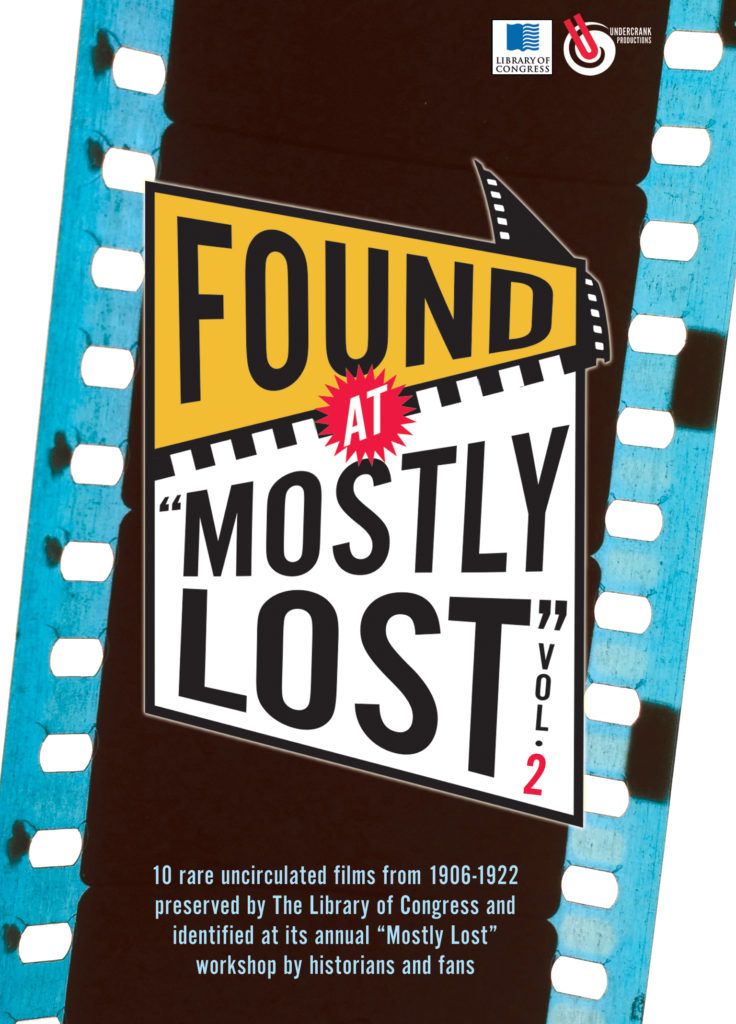 What's in a name? Thousands of films have been preserved by film archives, but because their main titles are missing no one knows what they are. Thanks to the annual Mostly Lost film identification workshop, this is changing. This second DVD volume contains eleven extremely rare films preserved by the Library of Congress that were ID'ed recently — silent film shorts starring comedians like Snub Pollard, Monty Banks and Billy Bletcher, a pair of westerns, a cartoon, and Nickelodeon-era amusements.
Beginning in 2012, the Library of Congress has hosted Mostly Lost, an annual workshop held at its National Audio-Visual Conservation Center in Culpeper, VA. Attendees range from writers, scholars, archivists, and filmmakers to just plain film buffs and students interested in film or preservation. During the three-day workshop, silent and early sound films are screened that have been unidentified, under-identified or misidentified. All genres of films are shown, including comedies, dramas, newsreels and actuality films.
Attendees shout out things during screenings as they recognize them or find them online — anything from car models, city landmarks, actors, production companies or even the title of the film. In addition to films from the LoC's collection, Mostly Lost features material from other film archives around the world.
This DVD is comprised of a selection of treasures from the Library of Congress' vaults that were identified during the Mostly Lost conferences held 2015-2017.
The 10 silent films on the disc feature new piano scores by silent film accompanists Philip Carli, Ben Model, or Andrew Simpson, who also provide live musical accompaniment at all Mostly Lost workshop screenings.

DVD CONTENTS:
And the Villain Still Pursued Her; or The Author's Dream (1906) – Vitagraph
The Faithful Dog; Or, True to the End (1907) – Eclipse
The Falling Arrow (1909) – James Young Deer
Adolph Zink (1903?) – Thomas A. Edison Co.
In The Tall Grass Country (1910) – Francis Ford, Edith Storey
The Noodle Nut (1921) – Billy Bletcher
Fresh Fish (1922) – Bobby Bumps (animated)
Derby Day (1922) – Monty Banks
Do Me a Favor (1922) – Snub Pollard
The Sunshine Spreader (1920s)
106 mins ● B&W/tinted ● Stereo ● 4:3 aspect ratio ● Not Rated ● NTSC ● Region 0 (all-regions)
Produced for DVD by Ben Model/Undercrank Productions
Release date: October 30, 2018
Available at: