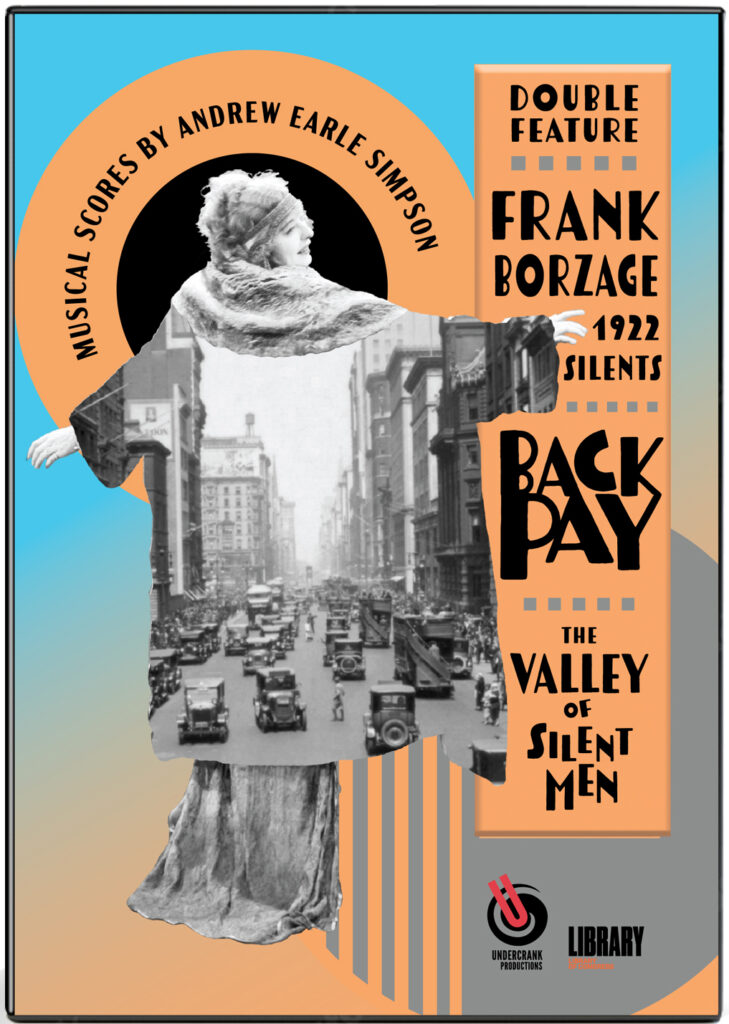 Frank Borzage, winner of the first Academy Award for Directing, is perhaps best known for Seventh Heaven (1927), Street Angel (1928), and Lucky Star (1929). The two features on this 2-disc set, both released in 1922 by Cosmopolitan Productions, show Borzage's mature style emerging.
Back Pay is the tale of Hester Bevins (Seena Owen), a restless small-town girl who leaves town and boyfriend Jerry (Matt Moore) behind for luxury in the big city. But that luxury comes at a terrible cost. Frances Marion's scenario is based on Fanny' Hurst's story. The film is presented here in a new 2K digital scan of the Library of Congress' 35mm materials.
The Valley of Silent Men, on disc for the first time, is an adventure story based on James Oliver Curwood's novel, shot entirely on location in Canada. Following a series of bizarre and identical murders, suspicion falls on the mysterious Marette Radisson (Alma Rubens). Or is the man who loves her – Corporal James Kent of the Mounties (Lew Cody) – the killer? Audiences at New York's Rialto Theater in 1922 burst into applause at the film's stunning mountain vistas. The film is presented here in a new 4K scan of the Library of Congress' 35mm preservation materials. Missing scenes have been reconstructed from the novel, reviews, and existing stills.
New piano and theatre organ scores composed and performed by silent film musician Andrew Earle Simpson. Bonus features: video essay on Borzage at Cosmopolitan, and a subtitle commentary track with background and shooting location into.
BLU-RAY/DVD CONTENTS:
Back Pay (1922) – 82 mins
The Valley of Silent Men (1922) – 56 mins
Bonus Feature: A Turning Point: Borzage at Cosmopolitan (2022) – 11 mins

Total: 149 mins ● B&W/color ● Silent with score (stereo) ● 1.33:1 ● Not Rated ● NTSC ● Region 0 (all-regions) – 2 discs
Produced for DVD/Blu-ray by Andrew Earle Simpson and Ben Model.
An Undercrank Productions / Library of Congress release. Associate Producer Crystal Kui
Release date: March 1, 2023
Available at: