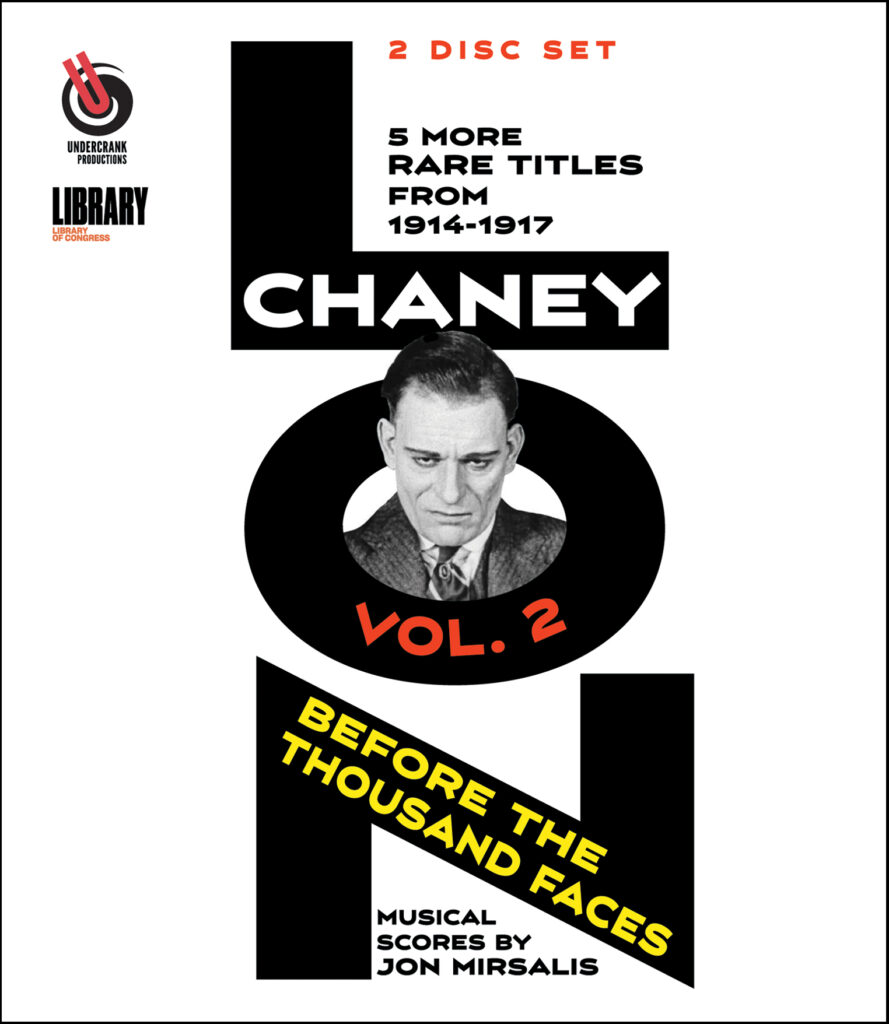 Lon Chaney: Before the Thousand Faces – Vol. 2 contains five more rare dramatic silent films from 1914-1917 in which Lon Chaney has a supporting role, selected by Chaney historian Jon Mirsalis. Lon Chaney's film work from the 1920s is well-known and— with the exception of the notoriously lost A Blind Bargain (1922) and London After Midnight (1927) — is mostly available on home video. In contrast, only 24 of the 111 films Chaney made at Universal in the 'teens survive, and only about 13 are complete.
The films on this 2-disc set have been curated from the Library of Congress and private collections; missing scenes and titles have been reconstructed where possible, and new musical scores have been created for each by Jon C. Mirsalis.
In conjunction with the release of Volume 2, Undercrank Productions is issuing a Blu-ray edition of the first volume, which was released on DVD in 2017.
DISC ONE:
By The Sun's Rays (1914) – directed by Charles Giblyn; starring Murdock McQuarrie, Lon Chaney, Seymour Hastings; 13 mins
The Oubliette (1914) – directed by Charles Giblyn; starring Murdock McQuarrie, Pauline Bush, Lon Chaney; 46 mins
The Millionaire Paupers (1915) – directed by Joseph De Grasse; starring Grace Thompson, Gretchen Lederer, Lon Chaney; 6 mins
DISC TWO:
Triumph (1917) – directed by Joseph De Grasse; starring Dorothy Phillips, William Stowell, Lon Chaney; 33 mins
The Scarlet Car (1917) – directed by Joseph De Grasse; starring Franklyn Farnum, Edith Johnson, Lon Chaney; 62 mins
160 mins ● B&W/tinted ● Stereo ● 1.33:1 ● Not Rated ● NTSC ● Region 0 (all-regions)
Produced for video, restored and scored by Jon C. Mirsalis.
Blu-ray/DVD disc release produced by Ben Model.
An Undercrank Productions / Library of Congress release. Associate Producer Crystal Kui.
Release date: August 2, 2022
Available at: