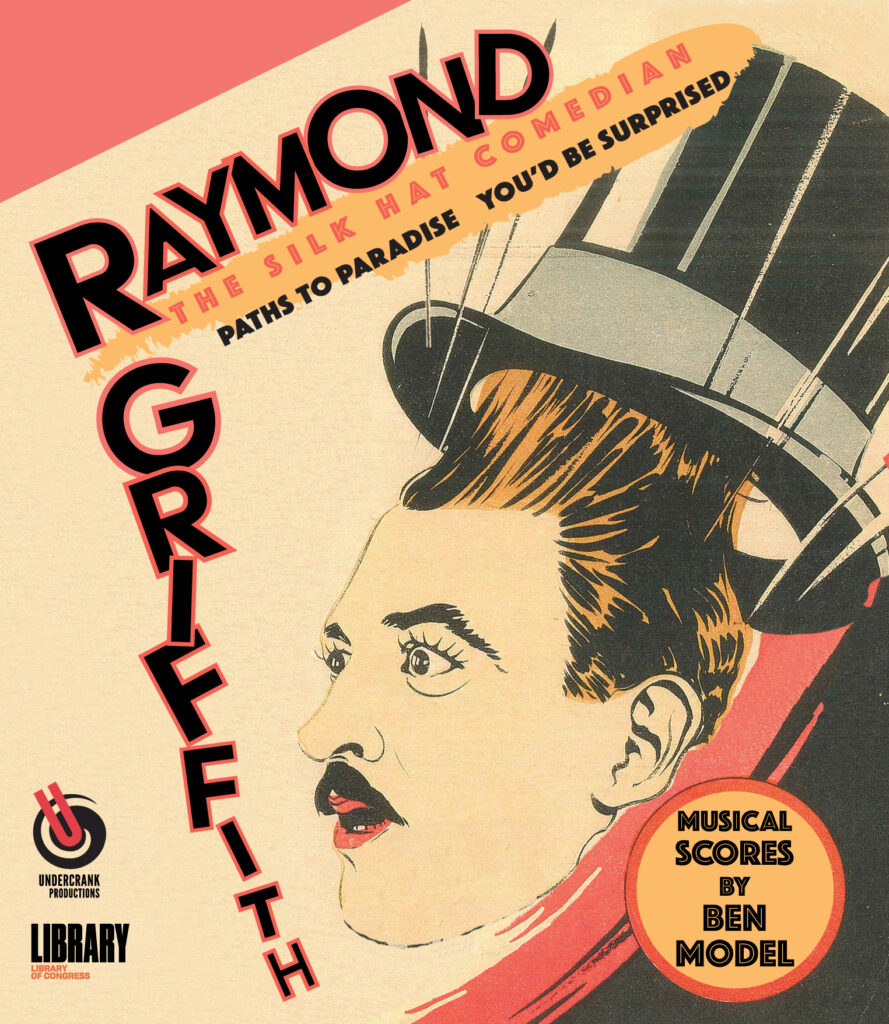 Raymond Griffith is one of the best kept secrets of silent comedy. During a twenty-five year career he not only wrote, directed and produced movies, but was also the star of nine comedy features for Paramount. Because of the disappearance and unavailability of his work he's been forgotten, but now this release of two of his best comedies puts the spotlight on Mr. Griffith and serves as an introduction to his many talents.
PATHS TO PARADISE is the most overlooked silent comedy classic of the 1920s. A clockwork-timed crook comedy that presents Griffith in all his smarmy elegance, it's expertly written, directed and acted by a top-notch comedy ensemble. Griffith and co -star Betty Compson play rival jewel thieves who form an alliance to steal a valuable jewel.
YOU'D BE SURPRISED stars the top-hatted bon vivant as a police coroner who's called in to solve the murder of an important district attorney. Dorothy Sebastian is the leading lady who helps Mr. Griffith sort through numerous red herrings to find the killer. Veteran supporting players add comic seasoning to the proceedings of one of the most recent rediscoveries of the lost Griffith films.
Both films are presented in new 2K digital restorations of archival 35mm prints preserved by the Library of Congress, and feature new musical scores by Ben Model.
Also included is a video essay about Raymond Griffith that uses film clips and still photos to examine his life and career, as well as to highlight the two featured films.
Paths to Paradise (1925) – 67 mins
You'd Be Surprised (1926) – 65 mins
Bonus Feature: Raymond Griffith: Silent Comedy's Silk-Hatted Secret (2023) – 12 mins

Format: Blu-ray / DVD
144 mins ● B&W/tinted ● Silent with score (stereo) ● 1:33:1 aspect ratio ● Not Rated ● Region ABC (all-regions) for Blu-ray ● NTSC Region 3 for DVD
An Undercrank Productions/Library of Congress release. Produced for home video by Ben Model.
Associate Producer: Crystal Kui.
Release date: June 13, 2023
Available at:

Reviews
"Paths to Paradise and You'd Be Surprised are funny and reveal examples of making a working-class hero out of an elegant upper-class toff in a top hat…We hope this release will raise awareness of this overlooked talent."
—Pop Matters
"His dapper hustler schtick works, because he is actually charming and the audiences want him to prevail regardless of which side of the law he is working on."
—Ink19
Undercrank Productions is definitely a "collector's brand"…This is a great package of a lesser-seen performer – the HD image looks sweet on Blu-ray and there is a educational video essay. Absolutely recommended!
—DVDBeaver