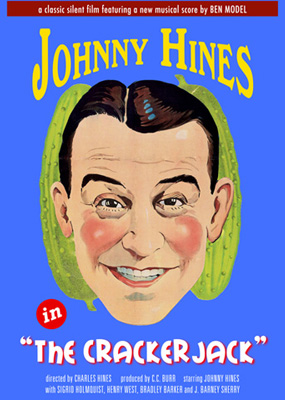 The Crackerjack (1925) finds silent screen star Johnny Hines as a breezy go-getter who falls in love with a young woman (Sigrid Holmquist) and helps her father thwart a revolution in Esquasado using stuffed pickles. Reminiscent of Harold Lloyd's Why Worry? (1923), as well as later films like Woody Allen's Bananas (1971) and Paul Mazursky's Moon Over Parador (1988), in The Crackerjack Hines takes on a variety of gag sequences including impersonating one of the fictional south-of-the-border country's dignitaries. The film ends in a large-scale battle and comedy chase and will delight fans of silent movies.
Johnny Hines made fifteen starring features between 1923 and 1928, most of which were released either independently or through First National. While Johnny Hines is not as well known today as Chaplin, Keaton or Lloyd, his films — most of which were directed by his brother Charles — kept movie fans laughing while they were waiting for the next release from silent comedy's luminaries.
This edition of The Crackerjack features a brand-new piano score by renowned silent film accompanist Ben Model. This video edition was mastered from a vintage 16mm print which shows some wear and which may be missing a scene or two; new intertitles have been created to replace missing ones.
67 mins ● B&W ● Stereo ● 4:3 aspect ratio ● Not Rated ● NTSC ● region 0 (all-regions)
Produced for DVD by Ben Model/Undercrank Productions
Release date: February 2013
Available at: