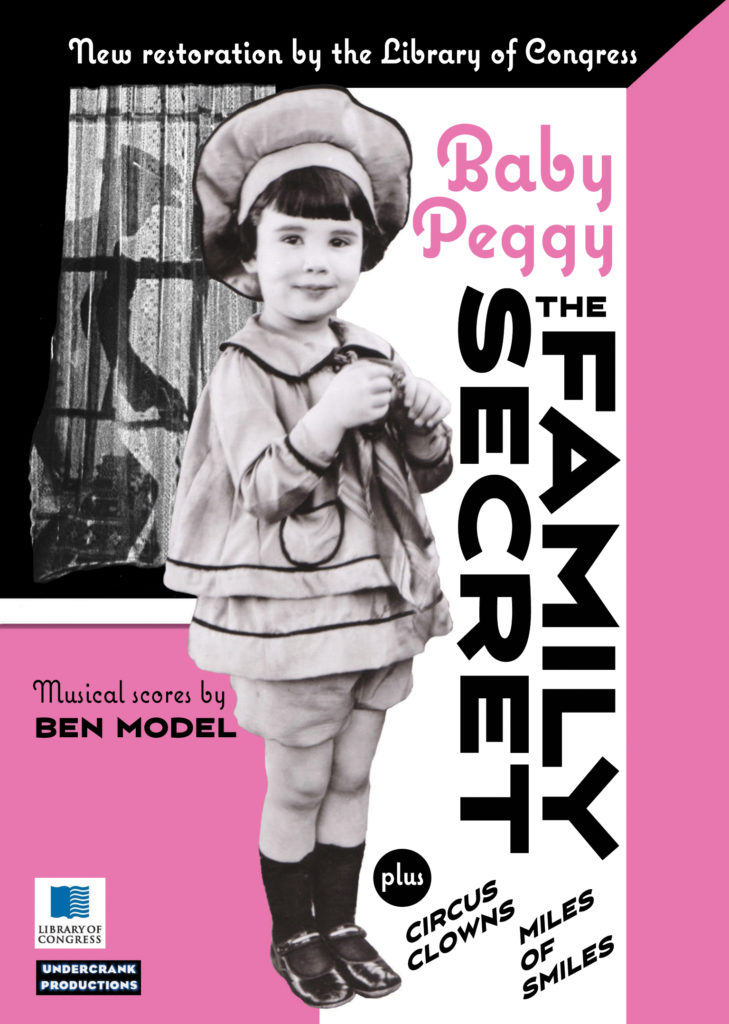 Just a few weeks after Charlie Chaplin's The Kid was released in 1921, 2½ -year-old "Baby Peggy" Montgomery began making comedy shorts for the Stern Bros. Century Film Company. The series, which initially co-starred Baby Peggy with Brownie the dog, had a successful 3-year run and led to her starring in features. The Family Secret (1924) is one of her best feature films, and is presented here in a brand new restoration by the Library of Congress, made from archival 35mm and 16mm elements.
Also on the DVD are two new-to-video and very-rare Baby Peggy shorts and two newsreels of Baby Peggy. All of the films on the DVD are sourced from archival 35mm materials, and are seen in brand-new 2K digital transfers.
All films feature a new theatre organ scores by renowned silent film accompanist Ben Model.
DVD CONTENTS:
The Family Secret (1924) – 60 mins – new 35mm restoration by Library of Congress
Miles of Smiles (1923) – 18 mins – new 35mm restoration by The Museum of Modern Art
Circus Clowns (1922) – 16 mins – new digital restoration, combining 35mm preservation of reel 1 from The Museum of Modern Art and 35mm nitrate of reel 2 from Library of Congress
Screen Snapshots (1921) – 3 mins – 35mm print from from Library of Congress
Screen Almanac (1924) – 1 mins – 35mm print from from Library of Congress
98 mins ● B&W ● Stereo ● 4:3 aspect ratio ● Not Rated ● NTSC ● region 0 (all-regions)
Produced for DVD by Ben Model/Undercrank Productions, in association with Greenbriar Picture Shows
Graphic design by Marlene Weisman
Release date: October 2015

Available at: